Current River Heritage
Explore and experience Ozark heritage on the banks of the Current River in historic downtown Doniphan, Missouri
Start Your Visit at the Current River Heritage Museum and Welcome Center
Our full time curator and volunteer docents can guide you through two floors of exhibits, artifacts, and photographs, and help you find other heritage sites and activities to enjoy during your visit to Doniphan. Located at 101 Washington Street, Doniphan, MO 63935, directly across from the court house. Phone (573) 996-5298 or email: rctourism@windstream.net
Pioneer Heritage Homestead
The Heritage Homestead is an interactive, living history area in downtown Doniphan. Here you will find an 1860's restored log cabin with vintage furnishings depicting the rural lifestyle of early settlers, a log barn housing antique farm implements, and a fully operational traditional blacksmith shop which is open every Saturday morning for forging demonstrations. The site adjoins the original Doniphan Cemetery where civil war soldiers were buried. Open for self-guided tours Saturdays from 9:00 a.m. until noon, or see it really come to life at the Heritage Days annual event.
Tom Kennon Blacksmith Shop at The Heritage Homestead
Stop in any Saturday between 9:00 am and noon for a free demonstration or advice from our master blacksmiths. Members of the Blacksmith Association of Missouri who have completed the Beginning Blacksmithing Class are welcome to use this Community Forge to work on their own projects and participate in weekly forging demonstrations.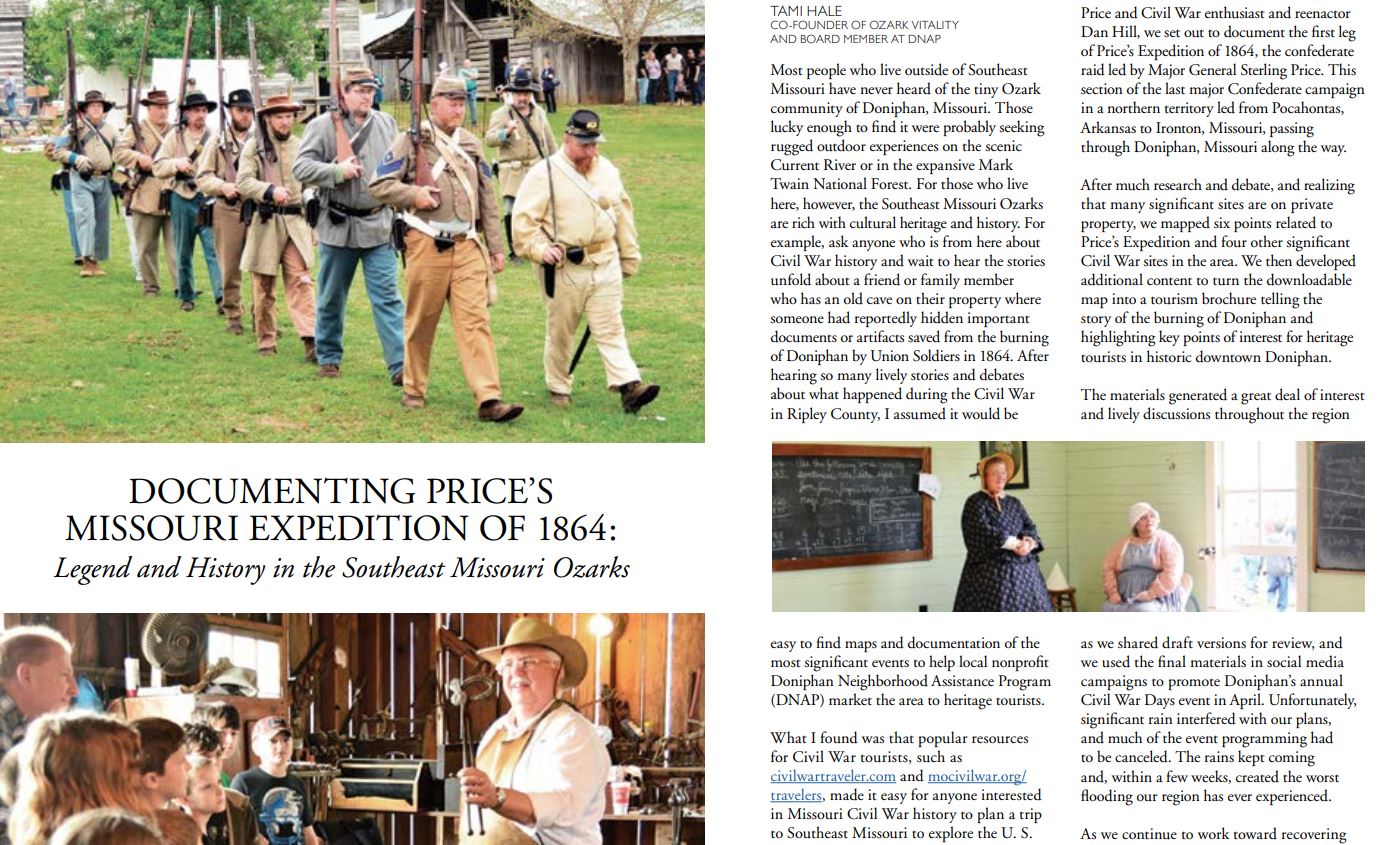 NEW! Doniphan Featured in Missouri Humanities Magazine
Check out the Fall 2017 / Winter 2018 issue of Missouri Humanities magazine to read about our grant-funded project to develop a tourism map documenting the first leg of Price's Expedition of 1864, the confederate raid led by Major General Sterling Price which passed through Doniphan, Missouri. Thanks to nonprofits Doniphan Neighborhood Assistance Program (DNAP) and Ozark Vitality for their work developing the map, which can be downloaded and printed.
Heritage Days Annual Event (Formerly "Civil War Days")
Annual two-day festival filled with live music, storytelling, living history exhibits and pioneer and early 20th century life demonstrations including rail splitting, fiddle making, blacksmithing, quilting and other vintage crafts together with military history, classic cars and period costumes. The 15th annual Heritage Days event will take place April 17-18, 2020. Vendors and crafters who would like to participate can contact the Curator at the Heritage Museum 573-996-5298 for information on registration and fees.
DONIPHAN NEIGHBORHOOD ASSISTANCE PROGRAM, INC.
All of the above mentioned Community Assets are owned and managed byThe Doniphan Neighborhood Assistance Program, Inc. (DNAP), which is a 501(c)(3) Not-for-Profit Missouri Corporation whose Mission is to Promote, Build and Operate Projects Benefitting the Doniphan Community. The Local Attractions highlighted on this Web Site Are Made Possible With the Assistance of a Tourism Tax Grant from the City of Doniphan, Missouri, Generous Donations to Our Local Fund Raising Projects and the Tireless Work of Many Volunteers.
DONATIONS TO DNAP ARE TAX DEDUCTIBLE UNDER THE FEDERAL INCOME TAX
DNAP Officers and Directors:
President: Christopher J. Miller
Vice-President: Rickie Maples
Secretary: Julie Braschler
Treasurer: Rebecca Wilcox
Other Board Members:
Barbara Brumitt
Michael Williams
Ray Joe Hastings
Dan Hill
Dennis Mohrmann
Ruth Burson
Cindy Jenks
Alice Shelton
Tami Hale
Rick Yates
Matt Michel
Sasha Daucus
Danny Kerras
Christy Hardin