Current River Heritage-Chris
Explore and experience Ozark heritage on the banks of the Current River in historic downtown Doniphan, Missouri
The Current River Heritage Museum and Welcome Center
Located at 101 Washington Street just off the Courthouse Square in Downtown Doniphan, the Museum and Gift Shop are open Weekdays from 9:00 a.m. until 4:00 p.m. and on Saturdays from 9:00 a.m. until Noon. Closed Sundays and Holidays. A Full Timer Curator supervises a staff of Volunteer Docents who man the Information Desk and assist visitors in touring the both the Community and the Museum. A well stocked Gift Shop sells local crafts and history books. The Ripley County Historical Society Library is also available for Genealogy Research by Appointment.
The Pioneer Heritage Homestead
The Heritage Homestead is an interactive, living history area in downtown Doniphan. Here you will find an 1860's restored log cabin with vintage furnishings depicting the rural lifestyle of early settlers, a log barn housing antique farm implements, and a fully operational traditional blacksmith shop. The site adjoins the original Doniphan Cemetery where civil war soldiers were buried. Open for self-guided tours Saturdays from 9:00 a.m. until noon, or see it really come to life at the Civil War Days annual event.
Living History on Display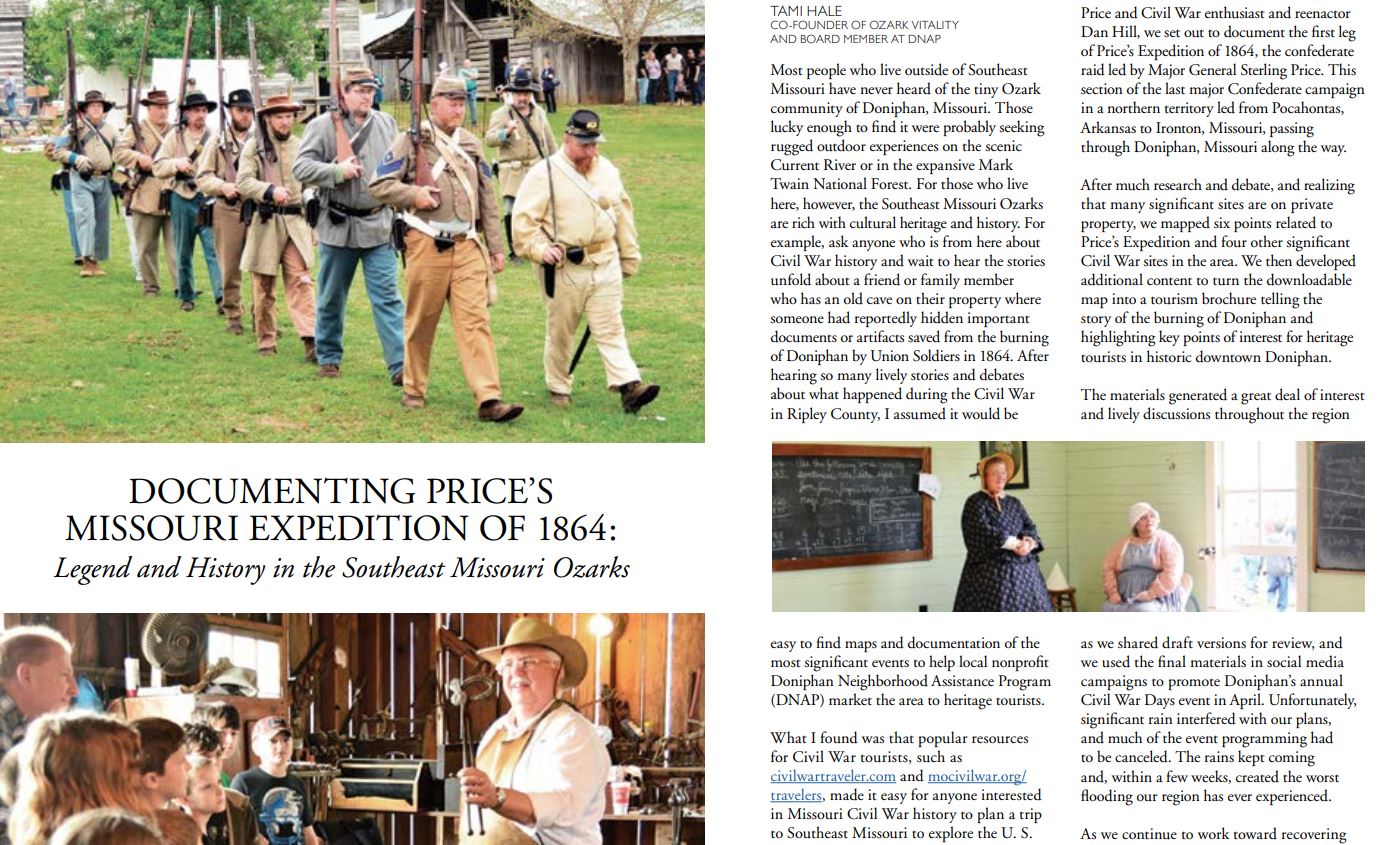 Doniphan Featured in Missouri Humanities Magazine
Check out the Fall 2017 / Winter 2018 issue of Missouri Humanities magazine to read about our grant-funded project to develop a tourism map documenting the first leg of Price's Expedition of 1864, the confederate raid led by Major General Sterling Price which passed through Doniphan, Missouri. Thanks to nonprofits Doniphan Neighborhood Assistance Program (DNAP) and Ozark Vitality for their work developing the map, which can be downloaded and printed.
Our Civil War Days Annual Event
We Host an Annual two-day festival filled with live music, storytelling, living history exhibits and pioneer life demonstrations of rail splitting, fiddle making, blacksmithing, quilting and other vintage crafts. 14th annual Civil War Days event will take place April 12-13, 2019. Vendors and crafters who would like to participate can contact Lynn Maples at the Heritage Museum 573-996-5298 for information on registration and fees.
The Tom Kennon Blacksmith Shop at Heritage Homestead
Stop in any Saturday between 9:00 am and noon for a free demonstration or advice from our master blacksmiths. Local Members of the Blacksmith Association of Missouri demonstrate this hands on craft and will even take commissions for custom work. Semi-Annual Blacksmith Training Classes are offered and regular meetings of statewide and regional Blacksmith groups are scheduled, all of which are open to the public.